Consulting & Technical Assistance
IT Solution Implementation Support
Our customers are committed to a process of continuous improvement of their IT solutions, supported by the implementation of digital transformation projects. In a context where technological developments are fundamentally disrupting the finance sector, IT Solution implementation support is proving to be an essential support to ensure the success of your digital projects.
However, these projects demonstrate a desire for change that embraces organizational, financial, functional, and technological issues. Faced with the diversity of existing IT solutions, our customers do not always have the necessary internal resources to achieve the objectives of the desired changes.
AMEF Consulting offers you its expertise to support you throughout the entire lifecycle of an IT solution implementation project, whether through a specific acquisition or development process.
Throughout the mission, we keep in mind the key issues for you:
Suitability of the solution with the strategy and identified needs
Harmonization and optimization of your processes
Maintaining a constant link between business managers and IT managers
Respect of your commitments (cost, quality, and deadlines)
Our approach is to involve all stakeholders from the start of the project and to ensure that our support brings the greatest added value to our customers. Based on innovative and proven methods, our approach is personalized and adapted to the needs expressed and defined with our customers.
Our IT Solution implementation offer is modular and structured around five complementary components: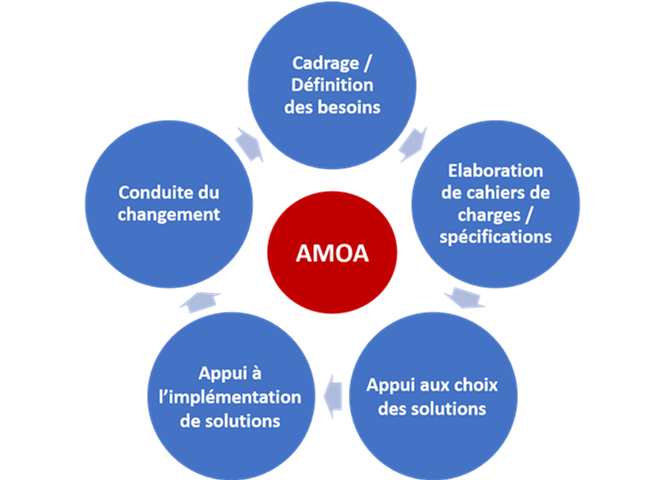 We therefore offer support for each stage of your project, from framing to functional assistance, including support for the implementation of the solution and change management:
Support your employees in the correct definition, expression, and formalization of their needs
Formalize the functional and technical specifications relating to your needs, thus providing the various service providers with a widespread support on which they can establish their offers.
Assist you in choosing the right solution: evaluation of offers and selection of the appropriate supplier
Coordinate the implementation and management of the project and ensure the compliance of the IT solution with the specifications
Succeed in the appropriation and proper use of the new solution by your employees concerned and make them adopt the induced changes.
We provide you with a team of experts and multidisciplinary Consultants having both the business knowledge necessary to understand your needs and identify areas for improvement and the technical knowledge essential to mastering the implementation of your IT Solutions. Our team thus constitutes a real force of proposal through the implementation of the techniques and methods most suited to your institution.
For any further information on our "Strategy and Organization" offer
or a specific offer proposal, call us on
+216 71 793 160