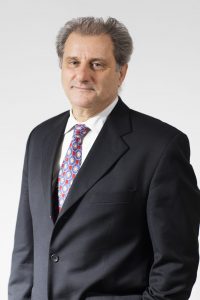 Banking Strategy and Marketing Expert
 As Consultant-Partner at AMEF Consulting, Slim Hédi Chekili works as an expert in Banking Strategy and Marketing. He has accompanied several financial institutions in the development of new products. He has also worked in the field of renewable energy where he   designed and implemented specific marketing strategies.
He began his professional career in 1982 with Banque Internationale Arabe de Tunisie (BIAT) where he held various positions in Tunis and Paris until 1998. He worked on projects to develop and offer new products/services, organize commercial activities, and introduce several topics of strategic marketing.
As a member of the founding team of Arab Banking Corporation – Tunisia (ABC Group) in 1999, he worked for six years on the management team of the ABC Group in Tunis.
Slim Hédi Chekili joined Union Bancaire pour le Commerce et l'Industrie (UBCI – BNP Paribas Group) in 2005. He served as Head of Business Development and Head of Strategy and Business Development until 2016. In that job he has worked on various strategic and operational projects such as setting up new businesses, developing products and markets for them, diversifying distribution channels, installing a marketing and communication strategy, pursuing quality certifications, and transforming the bank to a digital workplace
Slim Hédi Chekili is also an ITB -Paris Lecturer and a Teacher at the Arab Maghreb Development Finance Institute (IFID), the Academy of Banking and Finance (ABF) and the Tunis Stock Exchange Training Institute (IFBT), all in Tunisia.
Slim Hédi Chekili is a graduate of the ESCP Business School as well as the University of Paris- Dauphine.